I love guacamole and this recipe is sure to quench my summer lust for great food.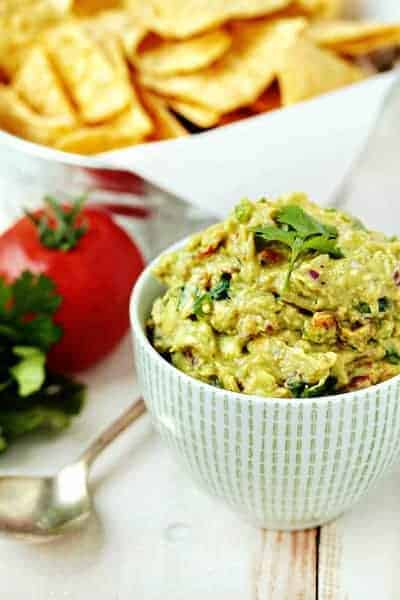 Spicy Guacamole
Yield | 6 servings
Ingredients
3 ripe avocados, halved, seeded and scooped
2 limes, juiced
3/4 teaspoon kosher salt
1/2 teaspoon ground cumin
1 teaspoon Sriracha* (use less or more to taste)
1/2 cup diced red onion (about 1 small onion)
1 jalapeno pepper, seeded and diced (leave some seeds in if you want to crank up the heat)
2 Roma tomatoes, seeded and diced
2 tablespoons chopped cilantro
1 clove garlic, minced
Directions
In a large bowl, toss the scooped avocados with the lime juice. Mash the avocados using a fork or potato masher. Add the salt, cumin, and Sriracha and mash. Fold in the onion, jalapeno, tomatoes, cilantro, and garlic. Let sit at room temperature for 1 hour and then serve.
Notes
-If you don't have Sriracha, you can substitute another hot sauce or use 1/4-1/2 teaspoon of cayenne pepper.
-Play around with the measurements – If you like more garlic, add more, etc.
-If you don't like your guacamole spicy, simply omit the jalapeno and cut back on the Sriracha.
-Recipe adapted from Alton Brown
source
My Baking Addiction